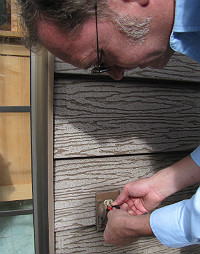 Contact

To schedule your home inspection, contact us:

Phone: 360-440-7884

Email: rob@sweetinspections.com

Five reasons to choose Sweet and Sound Home Inspections as your home inspection specialist:

1. Your home inspection report: We use the industry's top report-writing software. Your easy-to-follow Sweet and Sound Home Inspection report will give a guided tour through the depths of your home. Your report will not only tell you the condition your home is in right now, but will also anticipate the years to come. With detailed descriptions of all of your home's major components, you will have the insight to maintain and care for your home and all of its present and future needs. All reports are generated in a very prompt fashion and in most cases are received by our clients within 24 hours of their inspection.

2. An on-site slide presentation: Upon completion of the inspection of your home, I will sit down with you to review a photo gallery of what I found. This is a great way for me to show you all of the ins and outs of your home. This also gives you the opportunity to ask all the questions that you may have about the specifics of your home. Together, we can discuss all the major components of your home and how to care for and maintain them in the future.

3. Flexible and timely scheduling: I know that your time is important and buying a home can eat up a lot of it. I make myself available to meet your needs and am willing to schedule inspections when it is convenient for you and in most cases I will be able to perform your inspection within 48 hours of scheduling.

4. A Sweet and Sound Home inspection is the most thorough, detailed inspection on the market. I pride myself in doing the most detailed inspection I possibly can. Doing a home inspection is a lot of work. It just so happens that it is work I enjoy very much. Seeing as much of your attic, crawling to the corners of your crawl space and seeing every visible thing in between is what I bring to the table to provide you with the most thorough, in-depth inspection report.

5. Value: All professional home inspections are going to cost you money. What you get from a Sweet and Sound Home inspection is the dedication to provide you with the most honest, knowledgeable report and provide it to you in a professional, easy-to-read format that allows you to understand the home you are about to buy. Every inspection performed comes with the same philosophy that I will always work hard to earn your payment and satisfy all of your home inspection needs.